Welcome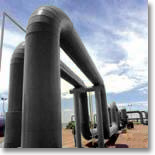 Since its founding in 1931, Pennsylvania Machine Works has grown to become a leader in the forged pressure fitting industry. Each distinct division, Penn Machine, US Drop Forge and Penn Texas contribute to the unique ability of Pennsylvania Machine Works. Forged pressure fittings, 1/8" through 6" and branch outlet connections 1/8" through 72" are all manufactured at our various locations.
Expect quick and complete deliveries as Penn Machine maintains a large inventory of the most requested items, as well as a variety of special fittings for quick turnaround jobs. Custom pieces are also available. If you need it, Penn Machine has it.
Industries Served
Our products are furnished to the most demanding requirements of the marine, nuclear power, petrochemical, shipbuilding, cryogenic and steel making industries and are used in many other critical industrial applications.

The specialists in the sales department can help you with either your O.E.M., stock or emergency needs. Available 24 hours a day, 7 days a week, a Penn Machine sales representative is your best choice to solve any forged, high temperature or special wall problem.